06 septembre 2007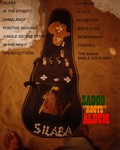 Walawalabok!!!!!!!!!!!!!!! Listen for free, then download the songs you like... the new
album of Sadoo and the lion family is "Roots"!! Venez écouter puis télécharger les sons que vous kiffé,
www.soundclick.com/sadoo ,(Attention: pour ecouter gratuitement choisissez "lo-fi" car parfois les lecteurs ne lisent pas correctement le "hi-fi", les sons sont pitchés et les morceaux sonnent beaucoup plus rapide, bonne écoute....)
nouvel album de Sadoo et de la lion Family "ROOTS"!!!!!!!!!!!!!!!!!!!!!!!!!!!!!!!!!
Lyrics, news and download on www.soundclick.com/sadoo (If you want to listen, click on "lo-fi" coz sometimes the players pitch the "hi-fi" and play it speed.)
Commentaires sur Nouvel album de Sadoo dispo! Sadoo new album is ready